ISPAH's Eight Investments That Work for Physical Activity | #8Investments
A call to action for everyone, everywhere, including professionals, academics, civil society and decision makers, to embed physical activity in national and subnational policies.
Amplify reach and engagement with the document by sharing it! As outlined on page 18 and 19 of the full document, sharing is only one step in advocacy. The next advocacy step is using the Eight Investments within your networks and circle of influence. The suggestions and resources are to assist you to advocate within your networks.
1. Write to your colleagues and other professionals by adding in your details to this Modifiable Template Letter.
2. Write a blog or embed within your newsletter using the Newsletter Draft Text.
3. Present ISPAH's Eight Investments to your colleagues, influencers and decision makers using this Presentation.
4. Like, comment, share and tag! On social media, please use #8Investments and content from the Social Media Toolkit.
Example image for Facebook / Twitter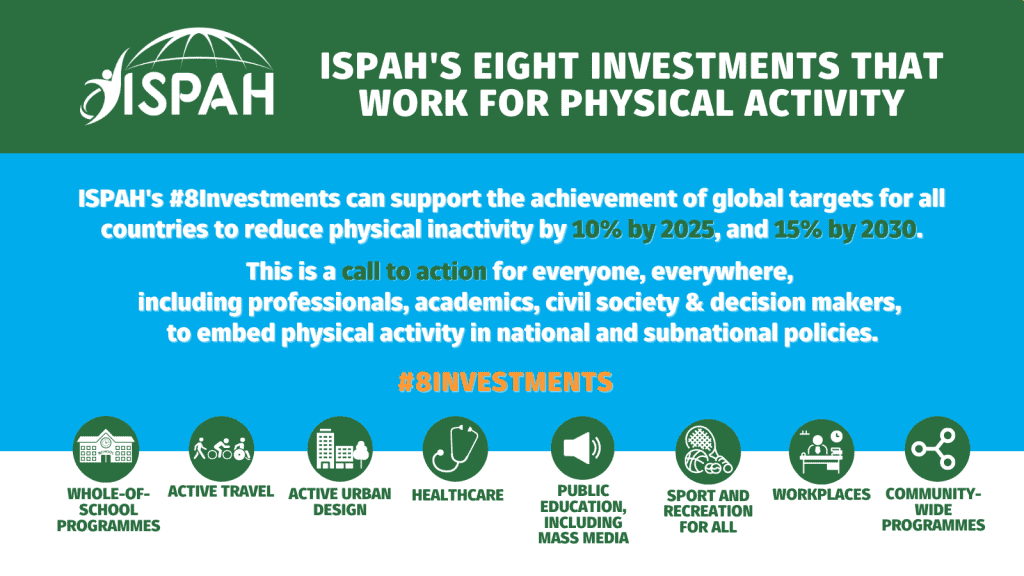 Example draft text for posts – English
Post 1: I/We endorse the #8Investments that work for physical activity! Everyone has a role to play to get our nations more active – what will you do? #timetoact #BeActive @ISPAH @WHO
Post 2: Together, we can beat #NCDs by supporting and TAKING ACTION on the @ISPAH #8Investments that work for physical activity! Read, SHARE, ENDORSE & FEEDBACK
For all posts, use #8Investments. Please also tag ISPAH on our social platforms.
You can show your support for ISPAH's Eight Investments. As an individual, as an organisation, or both, you can endorse the Eight Investments That Work. We will list endorsing individuals and organisations here on our website on an ongoing basis.
GIF / Image Download
Use this image to share your endorsement on social media using the hashtag #8Investments
Join the conversation on social media and share your thoughts on ISPAH's Eight Investments using #8Investments and @ISPAH
Let us know how you used the document and are advocating for physical activity in your region by emailing us
Organisational Endorsements