Tackling physical inactivity through sport; an evaluation of the Move It AUS program
The SPort & Recreation INTervention & Epidemiology Research (SPRINTER) group is a research partnership between the Prevention Research Collaboration, University of Sydney and the New South Wales Office of Sport. SPRINTER provides leadership and research evidence to inform evidence-based decision making in sport and physical activity policy and sector development. Led by Dr Lindsey Reece, SPRINTER works at the intersection, where research meets policy and practice, to facilitate the re-design of what sport really means to our local communities. SPRINTER promotes the successful integration of public health, within a refreshed concept of the sporting sector.
Sport can unite communities, provide opportunities for healthy behaviours and be a site for health promotion. Sport was recognised in the 2018 Global Action Plan for Physical Activity as an under-utilised sector in mobilising active communities. Like in many countries sport is perceived in Australia as for the competitive, or elite. People don't see sport as accessible for someone classified as "inactive".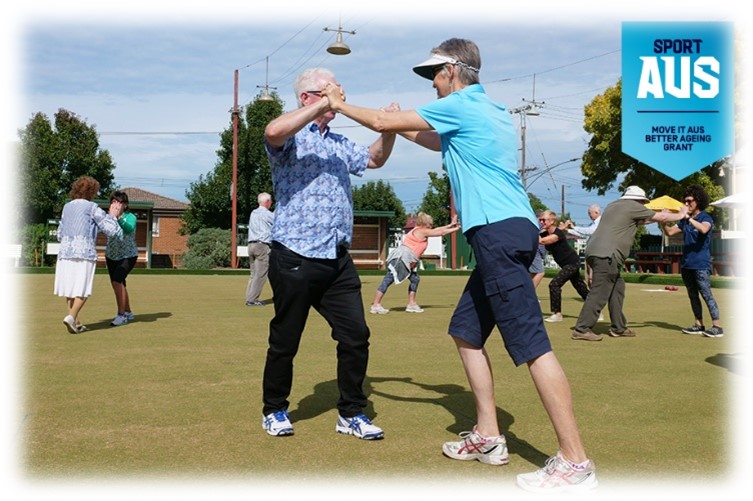 In 2018, the Australian Government launched a national commitment to reduce physical inactivity across the country called Sport 2030. This included a $230 million investment in sport and physical activity initiatives. The ambitious strategy was to ''get more Australian's moving more often".
A key pillar of this investment was a $50 million 4-year investment to fund the Move It AUS program. This government funding was to support organisations to deliver sport and physical activity programs. The Move It AUS funding was split into the Participation (all age groups) and Better Ageing (+65 years) funding streams. Sport Australia identified a number of priority inactive communities to target with this funding. Figure 1 presents an overview of the target groups the range of organisations funded, and key evaluation outcomes.
The SPRINTER research group at the University of Sydney led the independent national evaluation integrated into the national funding. This was an Australian first in using sport to tackle inactivity in priority groups across the lifespan.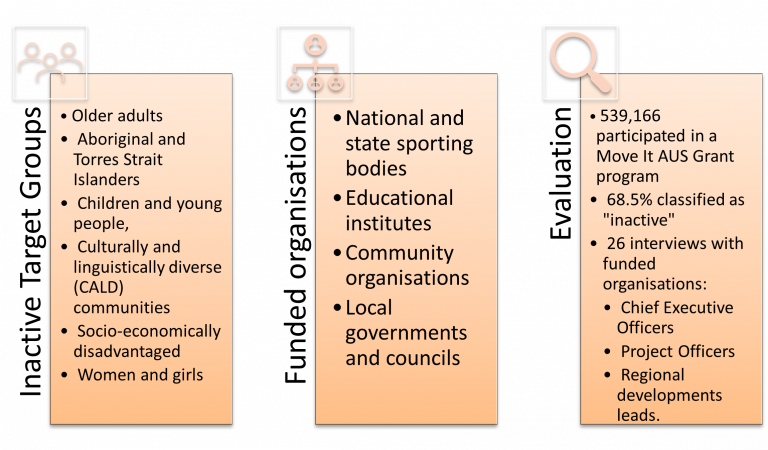 The SPRINTER evaluation provided 7 key insights (Figure 2) from the Move It AUS grant programs. These insights aim to enhance cross-sectoral sustainable and effective interventions tackling inactivity.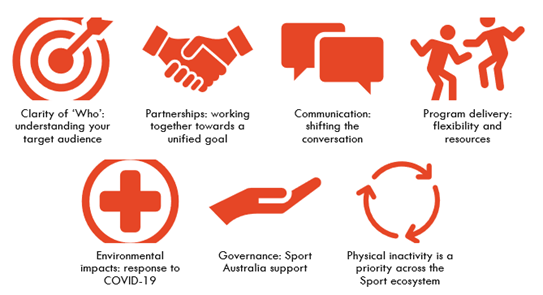 The key message from the evaluation is that collaborating, "trying something new" and co-designing new sports offerings will improve participation rates and support growth in the sport sector.
Move It AUS grants demonstrated the role sport has in reaching and engaging physically inactive Australians. Successful engagement strategies from funded organisations included: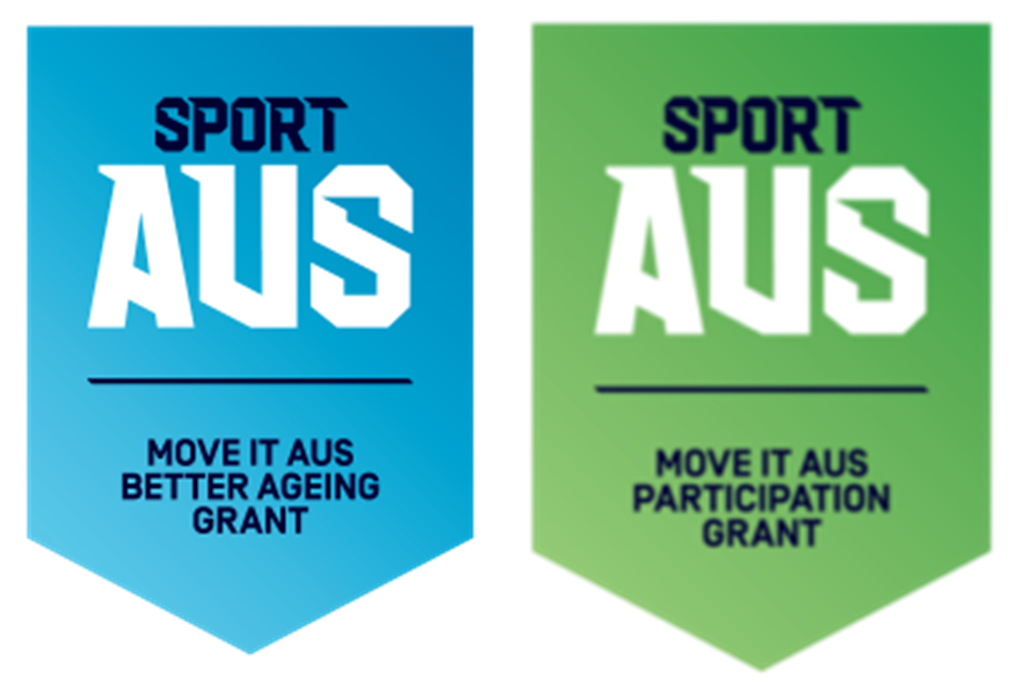 Understanding the drivers and barriers for participation for target groups.
Working with partners who know the target communities well.
Communicating the fun, inclusive and accessible nature of sport.
Co-designed programs with the target community.
Learnings also showed that different target groups have specific needs, where 'one-size-fits-all' approaches are ineffective. Organisations within the sport sector are willing to try something new and are really understanding the value of inclusive approaches in sport and physical activity.
Take home messages from the Move It AUS program and evaluation:
The grant program reinforces the potential that sport has in getting more Australian more active.
The need for organisations to know their target group, co-design or collaborate to identify and overcome specific barriers for target groups.
Cherishing and developing champions within organisations and continually evaluating initiatives is essential to improve the sustainability of sport and PA offerings to inactive communities.
Authors
Dr Catriona Rose, Dr Lindsey Reece, Ms Bridget Foley and Dr Katherine Owen; all The University of Sydney, Sydney School of Public Health, Prevention Research Collaboration, SPRINTER (Sport and Recreation Intervention and Epidemiology Research Group)
Mr Matt Warr and Ms Sarah Hull; both Sport Australia