Academics work with local stakeholders to enhance a community asset in a deprived area of a UK town
Delapré Park is a 550-acre urban park in Northampton in the East Midlands region of the United Kingdom that has been the location for local partnership working in an effort to increase walking numbers. The park, which sits within the town centre, offers different opportunities to engage with greenspace. Exploring these spaces often required a step into the unknown as the park offered very little directional signage or maps.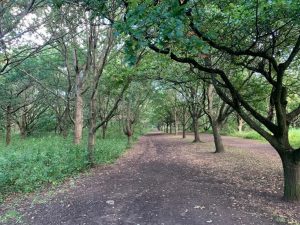 The University of Northampton teamed up with Delapré Abbey Preservation Trust (DAPT), and Northamptonshire Sport to develop a common interest project. DAPT's strategy has wellbeing as a central pillar and they are delivering funded projects using greenspace and heritage interventions to improve wellbeing.
Northamptonshire Sport is Northamptonshire's Active Partnership, the recognised local network of sport and physical activity delivery partners locally. These partners are committed to making more people more active more often in Northamptonshire.
The project began with proposing a circular 3 km signposted walking route through the park. It was anticipated that directional signage may help address anxiety and safety concerns, which can arise from exploring unfamiliar areas, subsequently acting as a barrier to recreational physical activity (Kelly et al., 2019).
To bring community input into the project, an online survey was launched by the University in March 2021 to ask the residents of Northamptonshire what impact the installation of directional signage may have on their mental wellbeing and engagement with greenspace as well as what information should be included on recreational walking signs. The survey responses from 266 participants found:
40% strongly agreed that directional signs on paths would make them feel less anxious about walking in unfamiliar places.
45% strongly agreed that signage would make them feel more confident exploring unfamiliar paths.
22% of respondents strongly agreed that directional signage would make them feel safer.
75% agreed that directional signage for recreational activity should be installed in public parks and public footpaths.
The most pertinent components to include on signs for recreational walking routes were:
Directional arrows
Total distance of the route
Consistent colours and fonts
Route map
Local information of interest
Emergency contact information
Full findings will be published in an academic journal.
Funding was acquired for signs and counters via a University of Northampton policy-related research award.
Between May and August 2021, baseline estimates of footfall on the proposed route were monitored using seven infrared counters that were located throughout Delapré Park. Visual observations also allowed for footfall comparisons with two other parks which were not provided with new signage.
On Sunday 28th August 2021, the signposted walking route at Delapré Park was officially launched. Footfall on the route will be continually monitored up to August 2023 using the infrared counters and visual observation by University researchers. The monitoring will determine if directional signage can increase recreational walking and how long any increases last. Similar signage studies for stair-use promotion have shown the initial increase in stair-use following sign installation tends to decrease back to pre-installation levels after a few weeks (Ryan et al., 2021).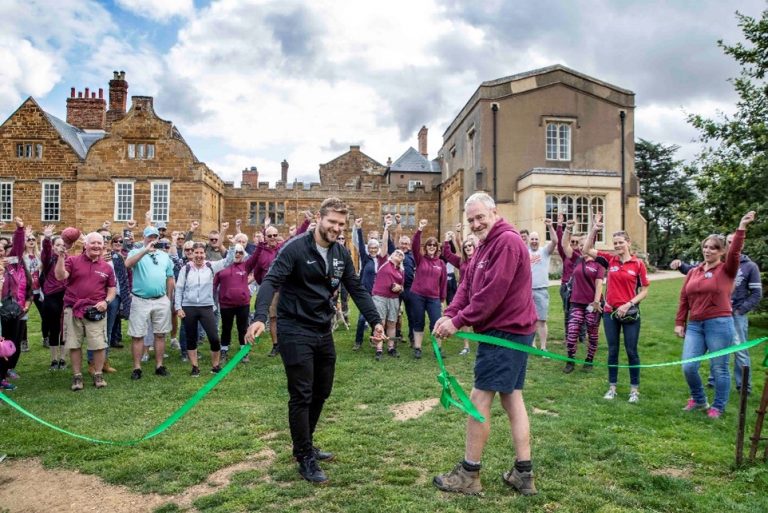 Early findings from the infrared counters suggested that route use has increased since the signage installation at Delapré Park. Online intercept surveys (Figure 4) are helping to identify whether the increase is due to regular park visitors deciding to walk a different route or new visitors deciding to walk the route because of the new signs, and whether the use of the route is contributing to individual increases in physical activity and wellbeing levels.
Why is this work important?
In England, there has been a renewed focus on how greenspaces can be used as a public health asset to address health inequalities (Public Health England, 2020). Some communities within Northampton fall within the top 10% of deprivation nationally (Northamptonshire County Council, 2019).
Directional signage for recreational walking, running, and cycling is not a new concept, but there is limited research on the success or shortcomings of these approaches to increase physical activity.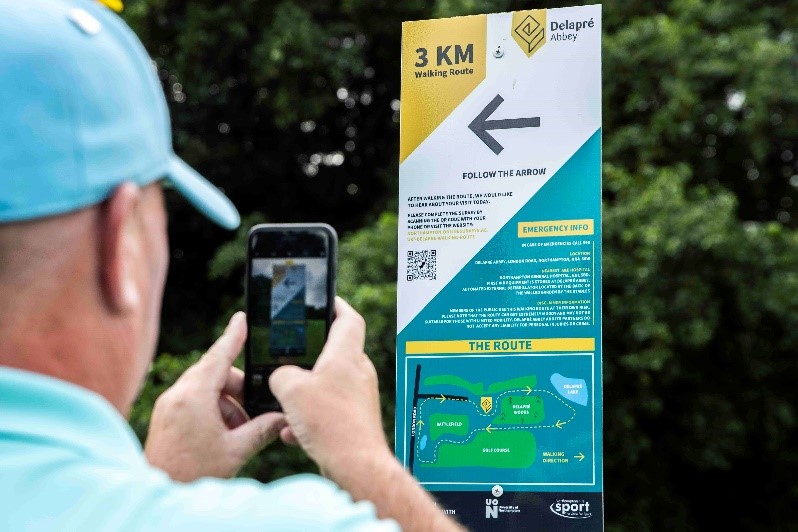 The current project led by the University of Northampton in collaboration with Delapré Abbey Preservation Trust, and Northamptonshire Sport provides a community asset that is framed within academic research.
The ambition is that it will provide a persuasive, evidence-informed case study that can inform local, national, and international park operators' investment decisions around active urban design.
Take home messages:
Directional signage for recreational physical activity may help to overcome individual psychological barriers to greenspace engagement.
Early indicators suggest directional signage could increase physical activity participation within greenspaces.
Community inputting into any active urban environment interventions will mean community assets are designed with them rather than for them.
Forming collaborations with Heritage & Culture and Community Physical Activity organisations provides a multidisciplinary insight to develop processes and practices where research studies create sustainable community assets.
Authors
Dr. Declan Ryan, Centre for Physical Activity and Life Sciences, University of Northampton, Northampton, England
Dr. Kimberley Hill, Department of Psychology, University of Northampton, Northampton, England