A whole school framework to embed physical activity at the heart of the school so that it becomes everyone's responsibility.
The Global Action Plan on Physical Activity highlights just how complex it is to change levels of physical activity.
Schools are an important component of a whole of system societal approach for the promotion of an active lifestyle and providing opportunities for physical activity across the whole day. However, we need to look at the whole system and understand the complexity of school environments and how processes are embedded and interact to influence behaviour.
Underpinned by behaviour change theory, the Creating Active Schools framework identifies the ingredients required to create and promote systems change in schools by addressing the organisational structure and culture within and beyond schools.
This systems change is needed as schools are complex social structures with unique qualities which can influence the quality of delivery and do not always allow for programmes to be transferred from one school to another with predictable results.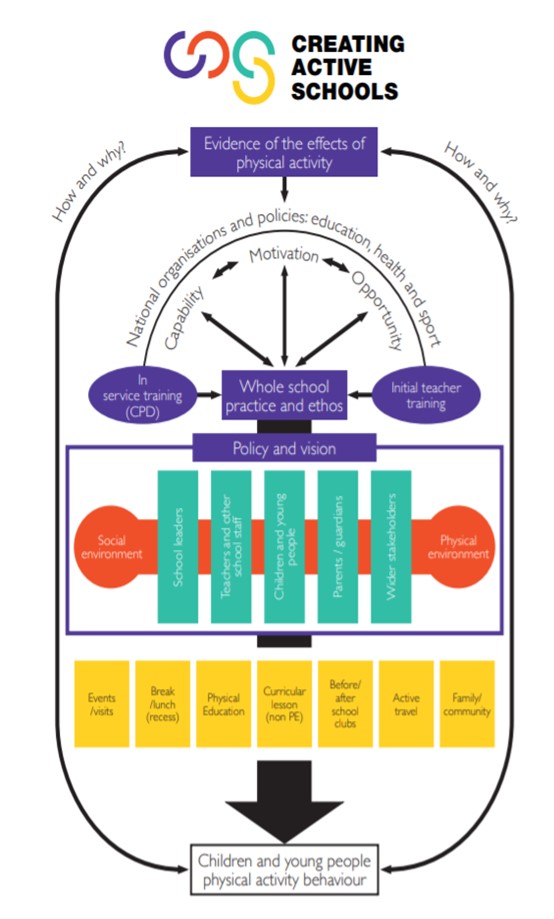 The framework seen here shows the multiple components which will facilitate whole school physical activity implementation. The bottom half of the framework outlines the in-school factors while the top half identifies factors associated with teacher training, behavioural science and the role of national and international organisations and policy development; the wider system beyond an individual school.
The cornerstone of the Creating Active Schools framework is establishing whole-school practice and ethos for physical activity. This represents the underlying sentiment that informs the beliefs, customs and practices around creating a physically active school so that everyone understands its benefits and can easily implement it in their practice.
A video outlining the development process for the Creating Active Schools framework can be used to find out more about the rigorous process undertaken to develop the framework.
The framework alone will not be enough to influence practice. The Creating Active Schools Improvement Tool has been developed to help schools identify their own school priorities in relation to physical activity. The tool also supports schools in systematically modifying their existing structures to create positive change.
The tool starts with a "profile analysis" – requiring a school to reflect on its current provision in relation to policy, environments, stakeholders and opportunities and identifying underserved components.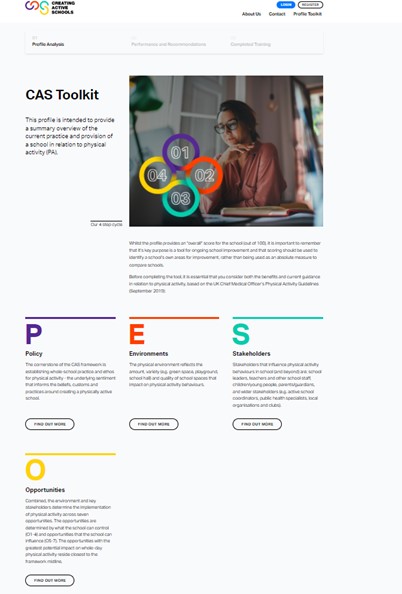 The improvement tool then uses a "logic model" approach to support schools in taking the priorities identified into their planning for the current (short/medium term) and future (medium/long term) years. The areas of the profile that have been addressed can subsequently be revisited to show progress to stakeholders.
New for September 2022 will be the launch of the online continuous professional development (CPD) e-learning. The CPD is part of the school improvement tool and is mapped to the profile, so that it directly supports the specific progress area required. Both the improvement tool and the CPD are currently being evaluated as part of the implementation of CAS.
Teachers and pupils have been instrumental in the process and have told us about the implementation of CAS and the impact it's had on them.
While CAS was developed within a specific UK context, its flexible nature allows replication elsewhere and we would welcome others to consider how it may be used and/or adapted in different country contexts.
Creating Active Schools is a research-based whole school behaviour change approach to increasing and improving physical activity in schools. It was borne out of a necessity to address successive school based physical activity programs and initiatives which, with the best intentions, have naively been viewed as the public health panacea but have failed to make a meaningful difference to children's physical activity levels or be sustained in schools.
The development process has recognised and combined the expertise from a wide range of stakeholders including advocates, beneficiaries, and influencers of children's physical activity and health from across practice, research and policy. The development process combined a one day conference on whole school approaches and a one day ideas generation workshop where the initial framework was co-designed by 50 experts in health and education. This was followed by an online questionnaire to gain consensus on proposed modifications for the final framework (for full details see Daly-Smith et al 2020).
Take home messages
In order to make sustainable changes to promote school-based PA we need to adopt a systems change approach.
CAS identifies the ingredients required to create and promote systems change in schools by addressing the organisational structure and culture within and beyond schools.
CAS is unique as it is underpinned by behaviour change theory and its development was informed by multiple school stakeholder groups using a co-design approach.
Authors and affiliations:
Dr. Andy Daly-Smith, Faculties of Life Sciences and Health Studies, University of Bradford, Richmond Road, Bradford, UK; Centre for Applied Education Research, Wolfson Centre for Applied Health Research, Bradford Royal Infirmary, Bradford, West Yorkshire, UK
Dr. Anna Chalkley (competing interest: ISPAH board member), Centre for Applied Education Research, Wolfson Centre for Applied Health Research, Bradford Royal Infirmary, Bradford, West Yorkshire, UK; Centre for Physically Active Learning, Faculty of Education, Arts and Sports, Western Norway University of Applied Sciences, Norway
Mr. Ian Holmes, Faculties of Life Sciences and Health Studies, University of Bradford, Richmond Road, Bradford, UK; Centre for Applied Education Research, Wolfson Centre for Applied Health Research, Bradford Royal Infirmary, Bradford, West Yorkshire, UK
Mr. Dan Wilson, Yorkshire Sport Foundation, Leeds, UK