What strange times we are living in…" 
…a global situation that has us all experiencing lockdown in some form or another. In your country, you might be allowed outside your home to be physically active, which we all know is vital for our physical and mental health at this time. However, you might be in a country (like mine – South Africa) where you are not allowed to exercise outside your home. If you are privileged, you have a garden which allows some space to move around; but you may be confined to exercise indoors. Whatever your situation, staying active and healthy in these times, while abiding by your country's restrictions, is important.
We recognise that there isn't a one-size-fits-all approach when it comes to promoting physical activity during a global pandemic, and COVID-19 has amplified many inequities across the globe. In low- and middle-income countries, governments have many competing priorities that outrank physical activity – fragile health systems, the threat of economic collapse, food insecurity, and abject poverty where household income has disappeared. In low-income settings around the world, many don't have access to internet to make use of the great resources available online to help you stay active at this time. And high population density in these settings can make social distancing virtually impossible. It doesn't mean that physical activity is less necessary for the promotion of physical and mental health in these areas; it just means that getting this message across is much harder when the voices of other systemic, social and economic challenges are louder. In this blog, and our most recent issue of GlobalPANet, we have endeavoured to be sensitive to these challenges and have included a range of useful resources on physical activity and COVID-19. Pick the ones that are relevant to your country's lockdown, your home environment, and your work situation.
This too shall pass, and I think we can all agree that the world as we know it has changed. Perhaps these restrictions will see a boost in physical activity once lockdown is over because there is a new appreciation for being outdoors? Even if it doesn't, hopefully, lockdown has taught many of us a thing or 2 about being resourceful when it comes to getting your physical activity for the day!
Stay safe, healthy and as active as you can be.
Catherine Draper
ISPAH President
ISPAH member, Emmanuel Stamatakis, and colleagues have published some great advice for staying active while in isolation. Check out their article in The Conversation here.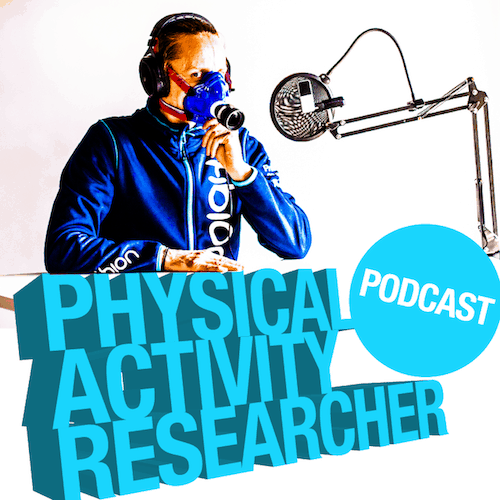 ISPAH member, Stuart Biddle, talks about the implications of the coronavirus pandemic on physical activity, sedentary behaviour and mental health in this Podcast.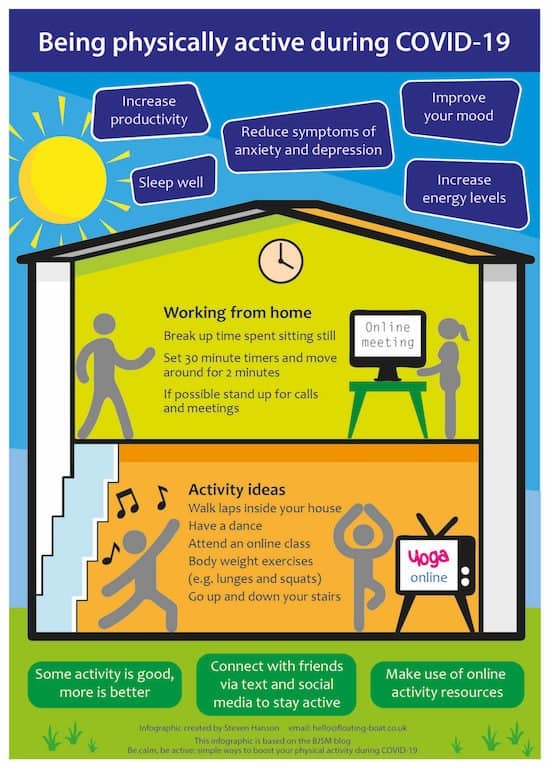 ISPAH members Paul Kelly, Coral Hanson and colleagues have written a great blog summarising the benefits of the general public keeping active during COVID-19. They've also created an infographic with some useful tips. Access the blog and infographic here.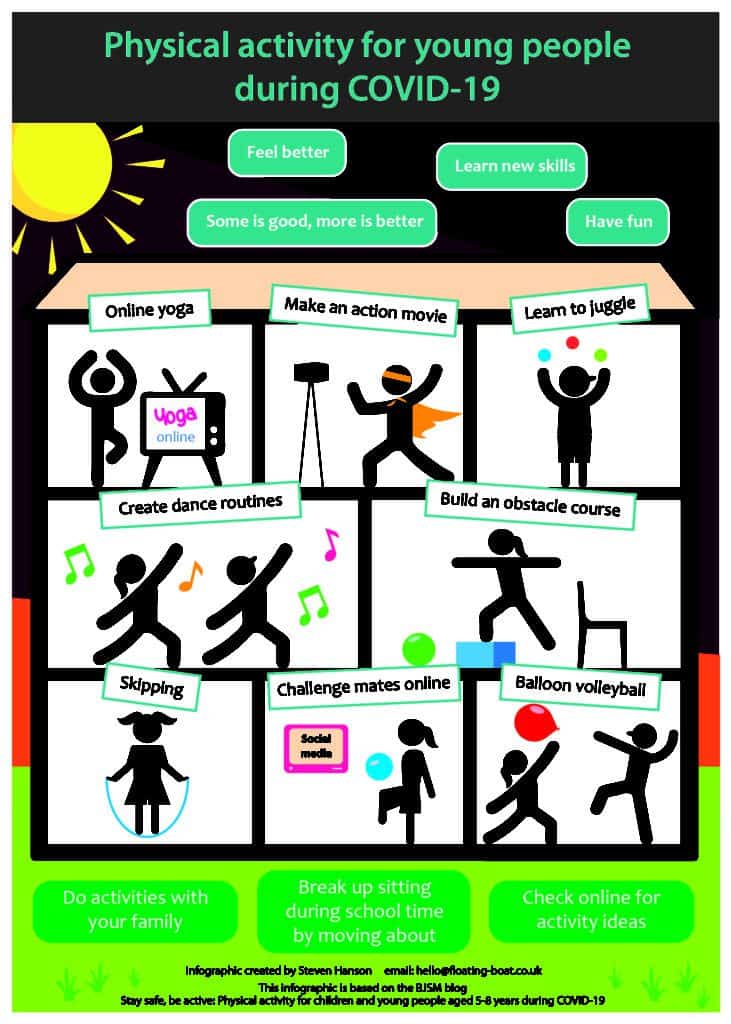 ISPAH member Coral Hanson and colleagues have compiled a useful blog with a guide targeted at parents of children and young people aged between 5 and 18 years. They've created an infographic with some useful tips for the children as well! Access the blog and infographics here.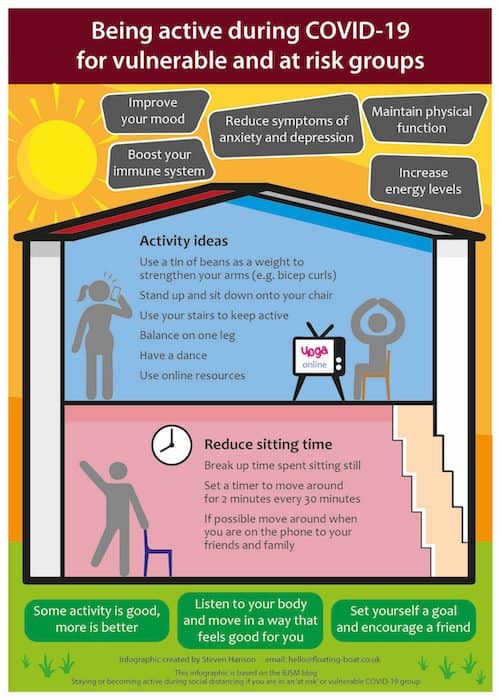 ISPAH members Paul Kelly, Coral Hanson and colleagues have also written a great blog summarising the benefits of persons considered 'vulnerable' keeping active during social distancing due to COVID-19. The infographic provided has some useful tips for these 'at risk' individuals. Access the blog and infographic here.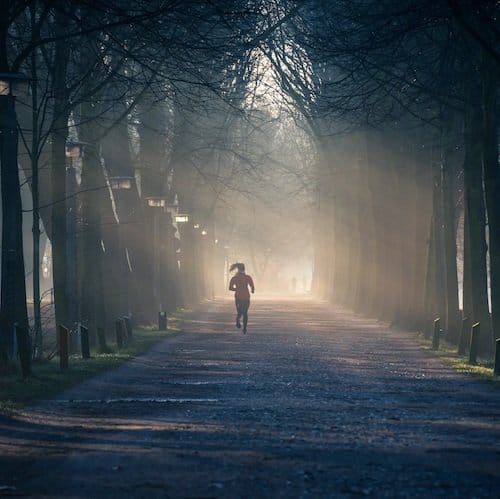 Professors Jim Sallis and Michael Pratt have written a piece on physical activity and the coronavirus pandemic. "Exercising is probably not top of mind as we struggle with how to protect ourselves, our families, and our communities during the COVID-19 pandemic. Perhaps it should be, because physical activity can be a valuable tool for controlling COVID-19 infections and maintaining quality of life…"
Access the letter here, and also view a lecture on a similar topic here.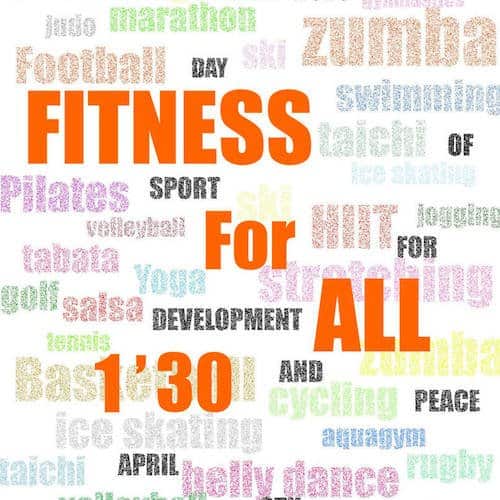 The International Council for Film, Television and Audiovisual Communication (ICFT) and its Platform for Creativity & Innovation (PCI) have launched an international activity FFA1'30 (Fitness for All 1'30) to support the UN International Day of Sport for Development and Peace (ISDSP) 2020. They are encouraging people to be active and make short videos of 1 minute and 30 seconds to share their creative ways of improving their health and well-being through sport and physical activity, whether experiencing containment measures or not.
For more information, please check here.
LMIC Research Council Response to the COVID-19 pandemic"
The steering committee of the newly formed ISPAH LMIC Council is compiling a response document to share within LMIC settings and more broadly, with the WHO, regarding physical activity during and after the COVID pandemic. Prior to this, the steering committee met with the Programme Manager in the Department of Prevention NCD at WHO, Fiona Bull, and discussed how the council could support the WHO mandate.
The response document, in progress, highlights the need for multi-country research in LMIC settings to measure the change in activity levels as result of COVID and the underlying real differences in multi-level factors (e.g. "lived experiences" of overcrowding, lack of water and sanitation, and competing priorities). Along with this, engagement with multiple stakeholders is required to develop locally relevant messages and opportunities that address their unique challenges posed by economic burden of physical inactivity and health inequities associated with COVID.
In addition, members of the council have offered to support the formulation of locally relevant messages to support and promote physical activity during lockdowns, while accounting for the different circumstances in economically advantaged countries and LMIC settings.
Post-COVID research could focus on an evaluation of the implementation of the WHO guidelines for physical activity in LMICs.
For more information on this, please contact Nana ([email protected]) or Vicki ([email protected]), and keep an eye out on the ISPAH website and twitter account.